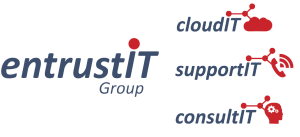 Since 2019, Serval IT Systems have been members of the entrust IT Group.
The entrust IT Group is a group of IT Managed Service Providers with offices across the United Kingdom and United States. The group began with a mission to grow and ever-expanding network of IT MSPs across the UK. We recognised early on that when it comes to IT support, people prefer to deal with a local company. Local companies hold great relationships. They value their clients and know them personally. Of course, it also helps that when something goes wrong, they are close by.
Unfortunately small local IT companies, whilst they provide great personal support, often lack the investment required to provide the highest tier of service. That requires the most advanced remote monitoring tools, experienced technicians, and close partnerships with a large supplier network. Paradoxically, when a company grows beyond a certain size, it inevitably loses some of that 'local' feel that makes it appealing.
That is why we founded the entrust IT Group.
Better Structure, Better Results
The entrust IT Group is structured in such a way so as to avoid the aforementioned compromises. We recognise that clients love dealing with a local team of account managers and engineers, so we created a growing network of small offices placed in strategic locations across the UK. These offices act as a 'quick reaction force', able to resolve issues rapidly and look after you carefully. As the network grows, so do our economies of scale. Investment in infrastructure centrally means each of our teams have access to the best in remote monitoring, CRM, and deployment tools. These are tools that allow our support to be proactive, spotting warning signs before your hardware develops faults.
Combining these advantages together means that Serval IT Systems can provide your business with enviable support.
Don't just take our word for it!
Serval Systems Ltd has provided us with a highly reliable IT support service for over 9 years. Two years ago we extended our link further, and outsourced our entire IT provision to them across the full range of services including ICT Strategy, server hosting and help desk provision. Our partnership has given us a definite business advantage in a highly competitive market
So, What do you think?
You may be satisfied with your technology, but could it be better?
If your values align with ours, let's talk.
Get in touch