Architects and Designers have unique requirements for their IT. The tools required for CAD modelling are some of the most powerful on the market. That means they are also some of the most expensive. Many design professionals lament the high costs associated with their work. The workstations, the software, the infrastructure, it adds up.
Furthermore, designers are often limited to their workstations in the office. The power required to perform 3D modelling mandates that designers are restricted to their PCs in the office. This places a barrier in the way of flexibility and home working.
Every firm is unique, but many report the same frustrations:
High levels of cap-ex investment on powerful design hardware results in pressure on profits.
Reliance on IT means that any support issues restrict productivity
A mixture of Windows and Mac hardware leads to an inconsistent experience around the workplace
Concerns about the security of your data – your designs are your USP!
Design solutions for flexible businesses
In partnership with our friends in the entrust IT Group, we offer practical IT solutions that will save you money, and improve your team's flexibility.
3D Design Desktop is a cloud desktop and workspace specifically tailored to architects and designers.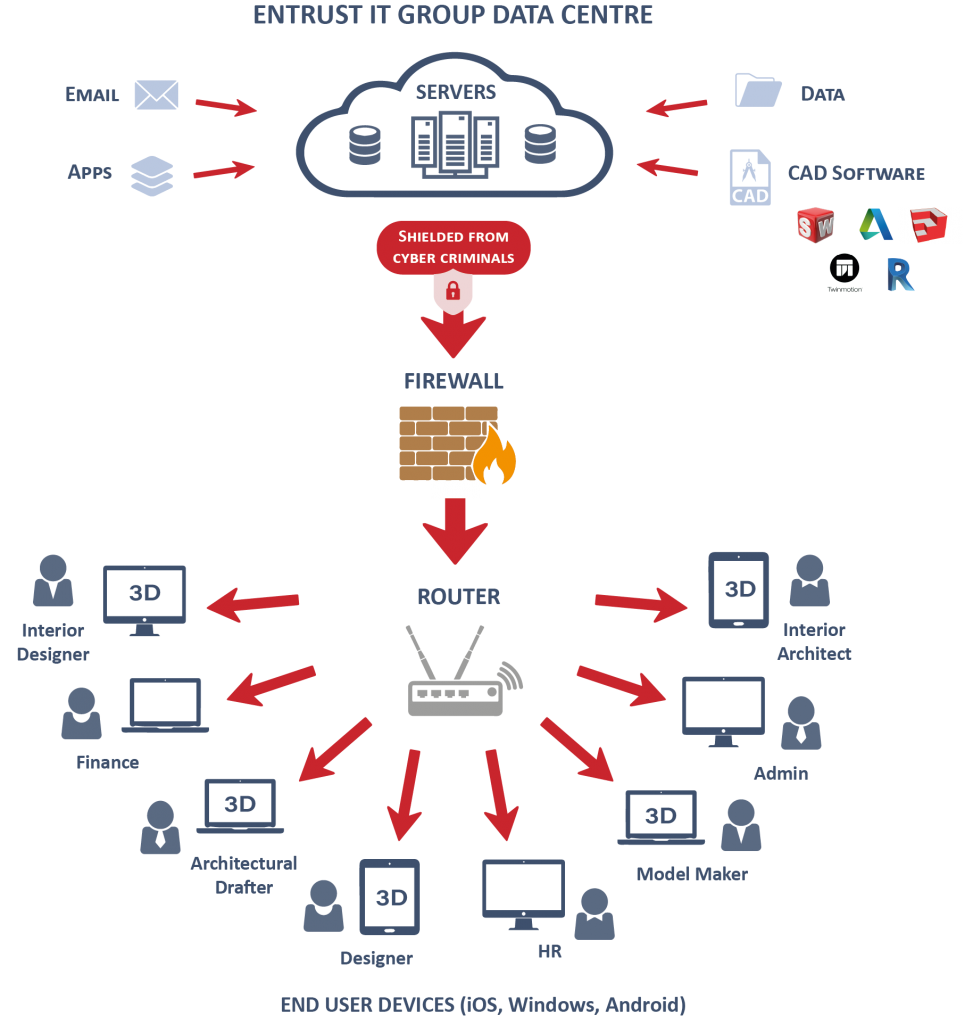 3D Design Desktop combines all of your work-critical items in one package. Email, CAD software, apps and data are hosted securely in ISO27001 certified datacentres and published to you via the Cloud. 3D Design Desktop uses high-performance graphics cards from Nvidia to virtualise graphical computing power across your user base. Consequently, CAD modelling and rendering is performed fully within your cloud workspace. As a result, CAD capabilities are extended to any hardware – including PC, Mac, and Android/iOS tablets.
How we solve our clients' problems
Firstly, 3D Design Desktop ensures that your designers can work on their models on almost any internet-enabled device. This dramatically reduces CapEx investment, and instead spreads your costs out into one simple monthly per-user price. You scale up and down as needed, ensuring you pay only for what you use.
3D Design Desktop also comes with unlimited support* included, so your team will always have access to a UK-based service team to keep your desktop running smoothly.
Furthermore, 3D Design Desktop comes with industry-leading security built in. That includes ISO27001 data storage, multi-factor authentication, and constant threat monitoring.
Suitable for PC and Mac users
We do not restrict our 3D design solutions to Windows users. Rather, our solutions work seamlessly on Windows and Mac. They also run on iOS and Android.
Whilst our 3D Design Desktop package is a Windows 10 style desktop, it is compatible with Mac hardware. However, if you would prefer an all-Mac experience, we recommend using your CAD software as a published application.
Our Mac support service offers you one-touch deployment and management for your company-owned macOS devices.
*unlimited support during office hours. Only applies to issues related to your 3D Design Desktop.
Success stories from around the group.

"Using 3D Design Desktop, we were able to open up our design team capacity globally and the feedback we have received from our team is tremendous. They love working with 3D Design Desktop."
To find out how the entrust IT Group accelerated performance at a global design company, view the case study here
————————————————————————————————

"The performance is almost indistinguishable between local and virtual. I have noticed no delays in rendering and loading times since moving to a fully virtualised system." 
Find out more about how 3D Design Desktop has revolutionised the way Studio Four Architects work, view the case study here
————————————————————————————————
Read some of the feedback from our other valued clients here
Don't just take our word for it!
Serval Systems Ltd has provided us with a highly reliable IT support service for over 9 years. Two years ago we extended our link further, and outsourced our entire IT provision to them across the full range of services including ICT Strategy, server hosting and help desk provision. Our partnership has given us a definite business advantage in a highly competitive market
So, What do you think?
You may be satisfied with your technology, but could it be better?
If your values align with ours, let's talk.
Get in touch